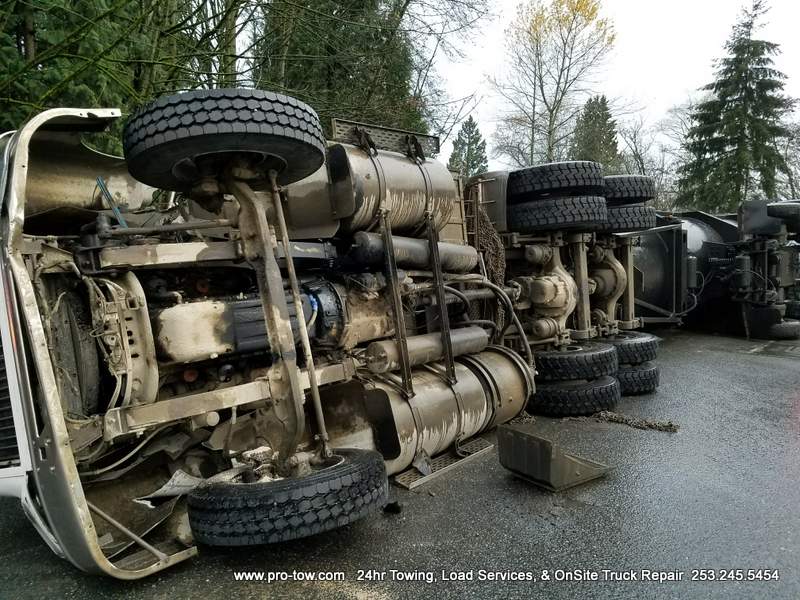 In this incident on January 28, 2017, a Hino box truck completely overturned on SR167 in Auburn, WA. This truck recovery in Auburn required the expert help of Team Pro-Tow. We arrived at the accident with our rigging equipment and assessed the scene. We decided the safest, quickest and best approach to rig the box truck to prevent further damage and open the roadway back up to traffic.
First, we rigged the bottom of the truck to pull it forward and place the vehicle back on its wheels. Once done, we loaded it onto the tow truck, safely transported it away from the scene and called this truck accident recovery complete!
Check out the video below to see how we did it!
Box Truck Loading Safety
When loading a box truck, it's essential to distribute the load's weight throughout the cargo box evenly. In addition, you must properly strapped down and secure the load within the box. Doing so avoids the risk of the weight shifting while driving and causing an imbalance. A sudden weight shift risks the truck tipping over when taking a turn and can cause an incident like the truck recovery in Auburn we mentioned above.
Drive Safely
How you drive also plays a significant role in preventing turnovers and accidents. Don't take turns too sharply or quickly. Doing so can damage the wheel axles or the tires and compromise the box truck's driving.
Likewise, drive extra slowly if the roads are slick from rain or ice. Whether the box truck is full or empty, a slippery road is a sure combination to cause an accident needing a truck accident recovery in Auburn.
When In Trouble, Call the Pros
Call the pros if you have a load shift problem, overturned truck, or damaged axles. Team Pro-Tow has the team, equipment and knowledge to help with any truck accident recovery. We can provide onsite or on-road repairs and tow your vehicle to our Motorplex shops in Auburn or Spokane.