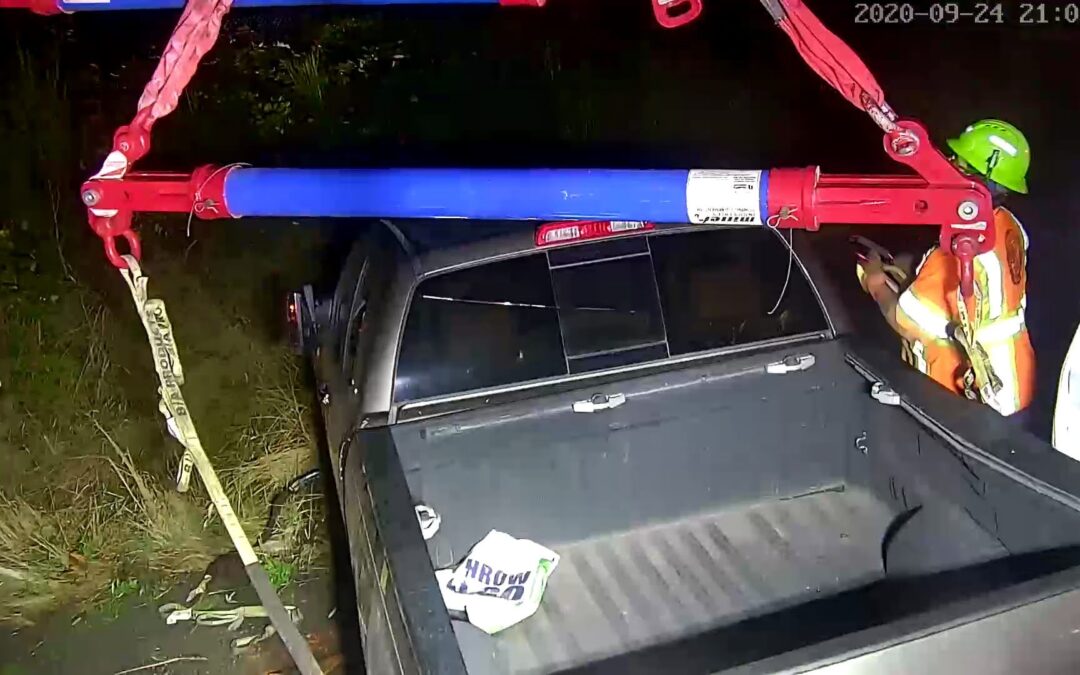 On September 24th, 2020, In this incident, Team Pro-Tow received a call about a multi-vehicle collision. A Toyota Pickup with a travel trailer had become stuck on the concrete barrier and needed rescuing. We called WSP about the situation and got permission to use the emergency turn around and shoulder for the accident recovery.
Truck Rescue
The Fire Department had arrived ahead of us and contained a fuel leak from the truck. The Toyota pickup was also still attached to its trailer, so a planned accident recovery process was ordered. The owner approved the rescue method, and we sent for a Heavy Mobile Rotating Crane Truck to help with the work. Once all the equipment arrived, our skilled team got straight to work.
To avoid further damaging the truck, we used spreader bars to lift the vehicle off the barrier. While our team handled the accident recovery, Pro-Enviro controlled the spill cleanup. We successfully lifted the truck, but then a new problem sprung up. The fuel from the tank began pouring freely onto the road. Pro-Enviro quickly handled the emergency spill cleanup and re-dispatched it for the Fire Department because of the safety risk of a fire.
Up And Away
With the truck and trailer safely lifted and the spill contained, we returned the combination onto the roadway. From there, we separated the truck from the trailer and loaded it onto the flatbed. For extra safety, we used a four-point tie-down.
We took the trailer back to the storage yard and all absorbent materials and debris from the spill cleanup. All equipment was returned to its original condition and location, with meticulous care to ensure everything was immaculate.
With all the paperwork finished, we got the cleared call. Another spill cleanup and accident recovery handled with skill and ease by Team Pro-Tow and Team Pro-Enviro.