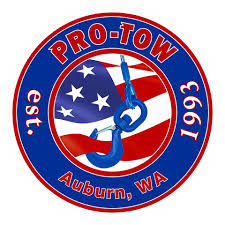 Tow Truck in Spokane, WA
Do you require a towing service in Spokane, WA? If your answer is yes, look no further than Pro-Tow for your towing needs.
When your vehicle breaks down anywhere in the Spokane, WA area, it is an emergency that our team is prepared to handle. With our wide range of towing and related services, including 24-hour recovery, roadside and onsite repair, and hazardous spill containment, you can always count on us for prompt and efficient vehicle care!
Regular Shop Hours
Monday – Friday: 8:00am – 5:00pm
Conveniently located just south of Spokane Internation Airport. West of downtown Spokane, take exit 276 off of the i-90 and turn south to arrive at our service center. Prominently located at the intersection of Grove and Thorpe Road is Pro-Tow, Motorplex, and Pro-Enviro Spokane.
Pro-Tow
Spokane, WA
5815 W. Thorpe Road
Spokane, WA 99224