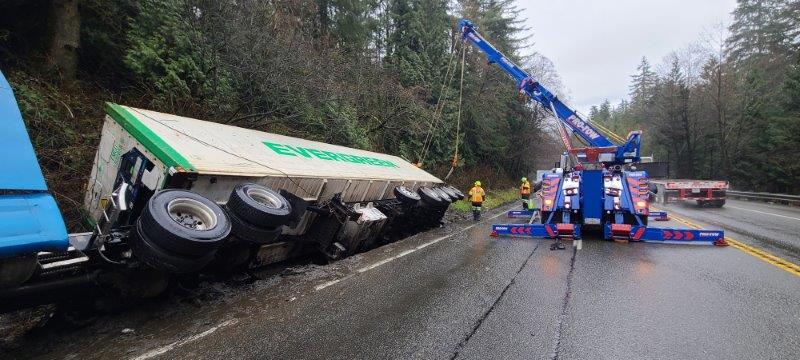 In this incident, on March 8, 2022, a semi-truck and trailer went into the ditch at a curve and needed semi-truck recovery. The accident caused the truck and trailer to tip against the embankment. The trailer also carried a full load of potatoes, so the vehicle and the cargo trailer needed an emergency tow to get back onto the road.
Team Pro-Tow came to the rescue! We selected the necessary equipment and then set out for the recovery at Tiger Mountain.
Semi-Truck Recovery
Once we arrived at the scene, we started with an assessment to decide the best way to rescue the tipped semi-truck and trailer. Unfortunately, the trailer was flat on its side, lying on the embankment on the side of the road.
We decided to use the two wreckers to lift out the vehicle. We carefully hooked up one wrecker to the front of the semi-truck and a second wrecker on the back trailer. Working with care and patience, we slowly lifted the unit and got it back on the road with all the wheels touching down. With the semi-truck lifting handled, we gave the semi-truck and trailer a once over and cleared it to continue on its way along Tiger Mountain.
Semi-Truck Lifting
Team Pro-Tow has the equipment to handle any recovery or accident. Before setting out to the scene, we always ensure we bring the right equipment. Once we arrive, we do a scene assessment to decide the best way to handle the semi-truck recovery and whether additional equipment or help is needed.
Safety is our top priority. That includes the safety of our team, other drivers, and those involved in the incident. That's why we are careful with our recovery plans and take the time to execute a thorough, detailed, and safe recovery. We always get a job done – and do it the right way.