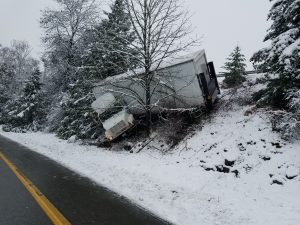 When you take your fleet out on the road over the winter months, you could face several different road conditions. In the Pacific Northwest, this unpredictable weather includes wet and heavy snowfalls that can decrease visibility, especially at night. Understanding how to navigate these roads will help you avoid semi-truck accidents, like this semi that found itself wrapped around a tree.
With winter on its way, here we share some essential semi-truck winter driving tips to help keep your drivers safe and trucks on the road.
Monitor Your Tire Pressure
In the winter and colder months, you must monitor your tire pressure. When the temperatures initially drop, your tires can lose a significant amount of pressure. Low tire pressure is a culprit for semi-truck accidents and poor fuel economy.
Slow Down
Driving slowly and carefully should go without saying. But whether you're dealing with icy, slick roads, wet slush or low visibility due to heavy snowfall (or all of the above), do your best to drive slowly — that means slower than you usually would. Driving slowly and cautiously when going around corners in winter weather is especially important. Also, remember to give yourself more time to get to your destination. This way, you won't feel as inclined to push the limits in winter driving conditions.
Leave More Space
One of the best semi-truck winter driving tips is to leave more space between you and other drivers when the roads aren't good. If possible, double or triple the space you normally leave. Adding space between you and the vehicles ahead can be especially helpful if you don't know the area you're driving in. When you can anticipate a deep curve or a hill that might be coming up, it will help you prepare for it and avoid accidents.
Furthermore, if you're in a passenger vehicle, give those semi-trucks lots of room! They take more time to slow down, turn, and accelerate – especially in winter driving conditions. Road safety is everyone's responsibility.
Call Team Pro-Tow 24/7
If you ever find yourself in an accident, your truck has fallen into a ditch, or you're stuck in the snow, call Team Pro-Tow! As our name suggests, we're the pros for hauling big rigs out of tricky situations. We can use a variety of special heavy-duty equipment, as well as highly-trained operators, to help you out!
Give us a call – we are available for emergency towing services 24 hours a day.