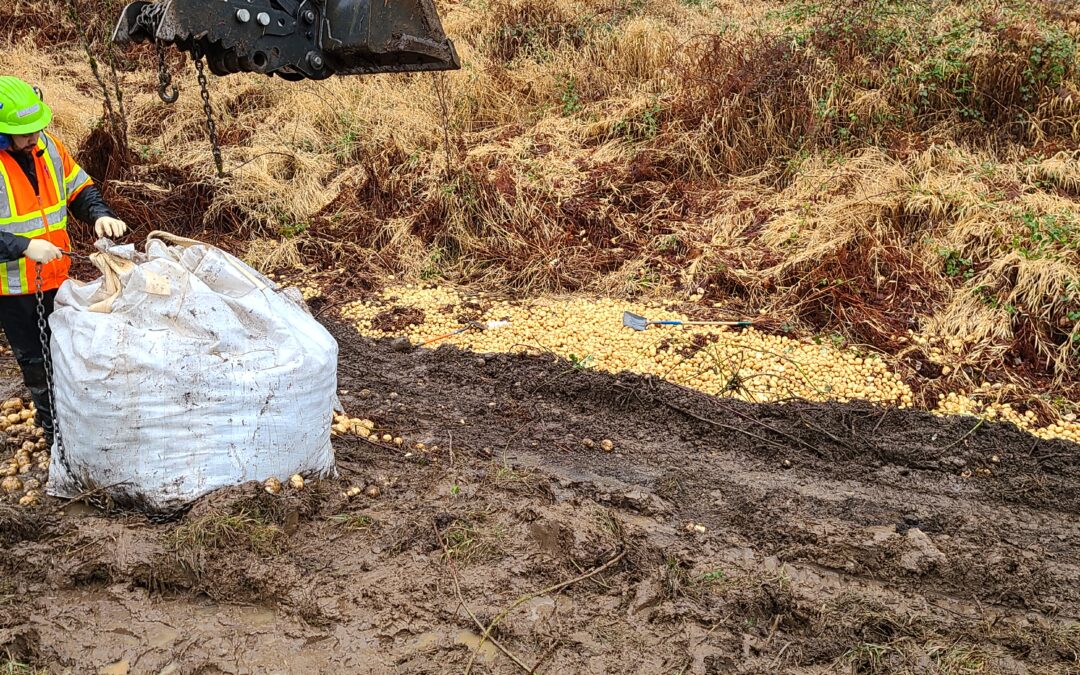 On January 2, 2020, we got a call about a load of potatoes that had spilled into a ditch. The initial report stated that around 5,000 to 10,000 pounds of potatoes needed recovery. But, after the cargo manifest, we learned it was 19,420 pounds! So, we requested some images to help form a recovery plan, including what equipment to bring.
After reviewing the images, we settled on bringing a flatbed dump trailer, a compact track loader with buckets and sweeping attachments, a commercial Landoll flatbed trailer, grain sacks to store the spilled potatoes, and a road closure kit. Once ready, Pro-Tow and Pro-Enviro headed out for this cargo recovery.
Scooping Up Potatoes
At the scene, we quickly realized that the images hadn't quite captured the full depth of the cargo recovery and spill cleanup. For example, the ditch was greater than 10 feet deep and located about 20 feet away from the side of the roadway. There were also parts of the vehicle scattered across the road. In addition, a ravine at the bottom of the trench created wet conditions while we worked. These factors would make the spill recovery difficult.
We put together a new, better recovery plan despite the many challenging factors. While digging out the potatoes with shovels, we also set up a platform for the excavator. Once we set that up, we used the excavator to remove the potatoes and put them into the grain sacks. The work still proved to be more challenging than thought, with the different trench conditions and then it started raining. Still, our team didn't quit or give up but diligently continued to scoop and bag potatoes.
Potatoes Cleared. Call Cleared.
After several hours it started to become dark, so we called in some additional help for the last stretch of the spill cleanup. Eventually, we got every potato cleaned up and bagged. With that part finally handled, we loaded up all our equipment and cleaned the debris left from the accident. We also used the compact track loader with a bucket attachment to smooth the land which got disturbed during the cargo recovery.
Before leaving, we cleared everything else up and then headed back to the storage yard. There, we would store the potatoes until the owner determined a plan for them. Then, before calling it a day, we reconditioned and stored all the equipment in its original locations.