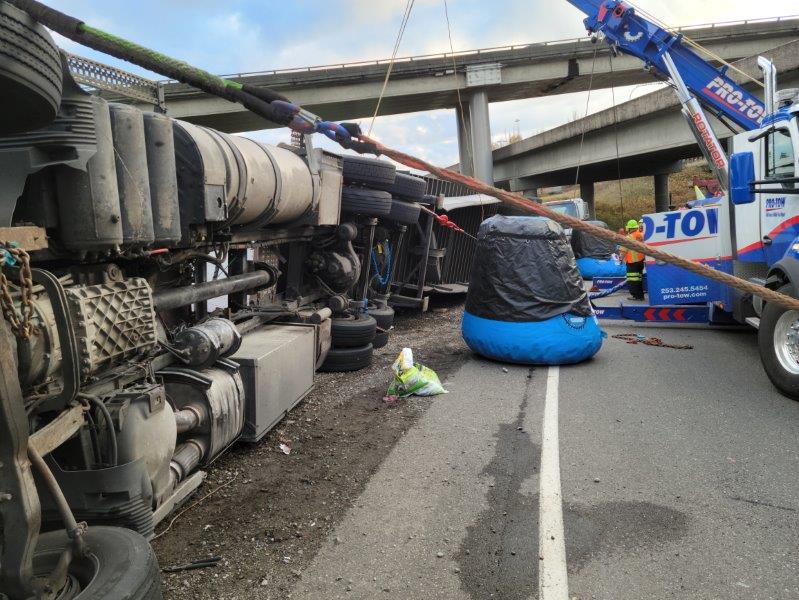 In this incident, on November 23, 2021, a truck and trailer carrying a load tipped over and needed help. Team Pro-Tow was called to the scene for the accident recovery, so we set out immediately.
Once we arrived, our team did a routine scene inspection to decide the best approach. Using our large inflatable lifting bags and some rigging would do the trick in this incident. The trailer load also appeared to be a mushroom product that needed some straightening.
Accident Recovery with Lifting Bags
Our team started by sliding the inflatable bags all along the underside of the trailer and then began inflating them. As they raised, it started lifting the truck and trailer. Once it was up enough, we could get some strap rigging on the unit to lift everything back onto its wheels fully. Our accident recovery task was completed with the trailer ready to roll and the mushroom product reloaded.
Trailer Recovery Methods
When it comes to rescuing trucks and trailers, our team has a few different approaches. While it comes down to the nature of the incident, we always bring our equipment and trained personnel for the job. However, in this case, with the trailer flat on its side, we couldn't simply lift and rig the unit.
Instead, we utilize clever rescue mechanics when needed. As in this incident, we used inflatable air cushions to help out. These handy lifting bags can easily slide underneath a truck or trailer. Once in place, our team then begins slowly filling them with air. As the cushion fills up, it slowly lifts the unit into the air. We do this just enough to use our other equipment, whether rigging, a bobcat, crane or other tools. Once the bags have done their job, we can safely and efficiently finish the trailer recovery process and call it a day.