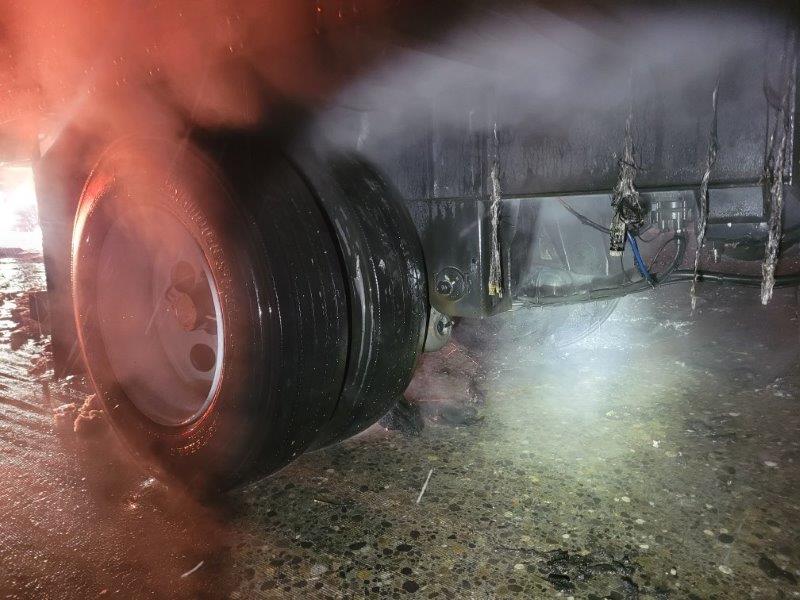 On December 26, 2021, Team Pro-Tow responded to a call from the Washington State Patrol. A trailer had caught on fire. It was the second trailer on a set of doubles and required immediate trailer fire recovery and accident cleanup.
This accident recovery was definitely a job for our heavy-duty wrecker. We got all the equipment together and set out to the scene. The weather was unfavourable, and we drove carefully due to icy road conditions.
Calling in Backup for the Burnt Trailer Towing
We saw that the fire had completely destroyed the tires when we arrived. Talk about burning rubber! Because of the damage, we needed to turn the dolly around for safe towing. Due to the extent of this trailer fire recovery, we had to call out for an additional person to help out.
Once they arrived, we could hook up the front of the trailer and maneuver the dolly around. Then, we could secure the dollies and tow the trailer from the scene using the ICC bumper.
Time for Accident Cleanup
Our Pro-Enviro division assisted with the extensive accident and road cleanup required for this recovery. A significant amount of debris was on the road surrounding the area. Team Pro-Enviro got to work clearing the debris and cleaning the roadway. Once complete, WSP opened the road back up to traffic.
Winter Conditions Cause Delays
Unfortunately, the road conditions were still poor due to winter weather. Pro-Tow drove slowly with chains on the tires to return that burnt trailer to the secure storage yard. Unfortunately, we could not tow it further because the roads were so bad. In addition, the trailer was so damaged from the fire that it wasn't stable for safe transport.
So we dropped the trailer off in our yard to reassess. In the meantime, we could recondition our equipment and clear the call.