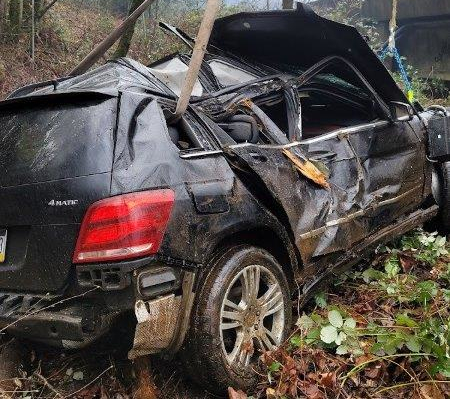 In this incident, on January 10, 2022, Team Pro-Tow responded to a call to fish a Mercedes SUV out of a steep embankment. The vehicle had flown over the concrete guardrail on I-90 in Issaquah, WA, prior and required accident recovery.
Crane Lift Recovery
At the scene, we saw the vehicle deep in the embankment, stuck in trees and mud. The SUV was severely damaged. Due to the steepness of the bank, we had to make a careful accident recovery plan to fish it out and get it back on the roadway.
First, our team of experienced operators rigged up the vehicle. It required rigging at the front end, and we ran the straps through the two back windows to stabilize the lift. Then, the operator slowly lifted the vehicle out of the ditch, over the cement guardrail, and back on the road.
With the crane lift recovery complete, we could tow the casualty away. Unfortunately, this Issaquah accident left some debris in the ditch. So, we got to work cleaning it up and restoring the site of the accident.
Accident Recovery in Difficult Circumstances
In this incident, we arrived after first responders. The Washington State Patrol and Washington Department of Transportation often rely on our expertise and specialized equipment to assist with recoveries of this nature. We can create recovery plans, and get vehicles and equipment out of sticky situations, even in the most challenging conditions.
Our specialties include lifting passenger vehicles and heavy trucks, and uprighting loaded transport trailers, moving equipment, recovering cargo, and recovering motor vehicle fluid spills after an accident. If you need something moved, lifted, or towed, Team Pro-Tow is available throughout Washington State, and we're on call 24 hours a day.
We have locations in Maple Valley, Auburn, Spokane, and North Bend, WA. If you need emergency towing, crane lift services, or accident recovery, give us a call.
Be sure to check out our other incident reports on our Recovery Blog!
If you require truck accident recovery, give Pro-tow 24-Hour Towing a call.