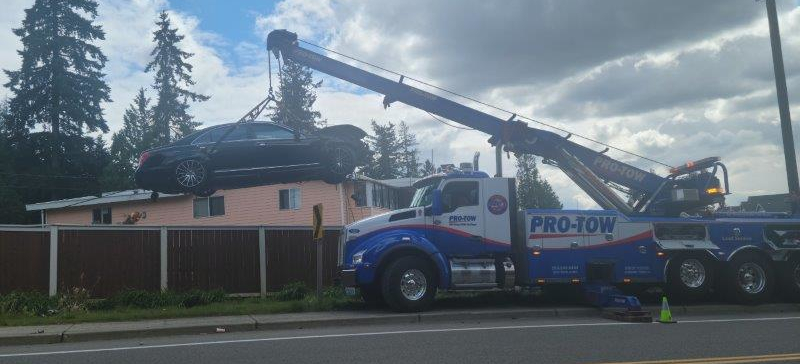 When lifting heavy objects, a crane is an essential piece of equipment. Of course, you'll see cranes used for construction or industrial purposes, but Team Pro-Tow uses them for other tough jobs. Hauling big rigs out of the ditch, moving shipping containers, or lifting old cars over fences – you get the idea.
However, not all cranes are created equal, and it takes skilled professionals to operate them safely and effectively. That's where Pro-Tow's crane lift services come in.
Leading Crane Services
Pro-Tow Crane Service is a leading provider of crane lift services in the Pacific Northwest. We offer various services, including crane rental, rigging, and operation. Our team has the expertise and knowledge to handle even the most challenging crane projects.
Heavy Duty Crane-Style Wrecker
Pro-Tow has top-of-the-line equipment to assist in our recoveries and crane lift jobs. Primarily, we use heavy-duty wreckers. These large vehicles can anchor and lift heavy equipment, containers, or vehicle at significant distances. In addition, our equipment is well-maintained and regularly inspected to ensure they are in top condition. We can handle a wide range of projects, from small lifts to large-scale semi-truck accident recoveries.
Expert Rigging Required
You can't lift something safely if you don't rig it correctly. Rigging is the process of preparing and securing loads for lifting. It is a critical part of any crane operation, and Pro-Tow's highly trained operators have the expertise to ensure safe, strategic, and correct rigging. We use only the highest quality rigging equipment to ensure loads are secure and stable during lifting.
Smooth Operators
Like rigging, crane services require trained and experienced operators who can efficiently and effectively operate the heavy-duty wrecker. Pro-Tow's team is the best of the best and can troubleshoot and complete even the most complex crane lift services. Handling these jobs safely and without causing more damage takes a practiced skill.
Pro-Tow Can Lift It
If you want crane services in Washington State, call on Pro-Tow. Whether it's for a truck accident recovery or moving something heavy and awkward, we are up for it! We have locations in Auburn, Spokane, North Bend, and Maple Valley, serving all of Washington State.
With our commitment to safety, quality, and customer service, you can trust us to do the job right. Learn more about our crane lift services in Washington.