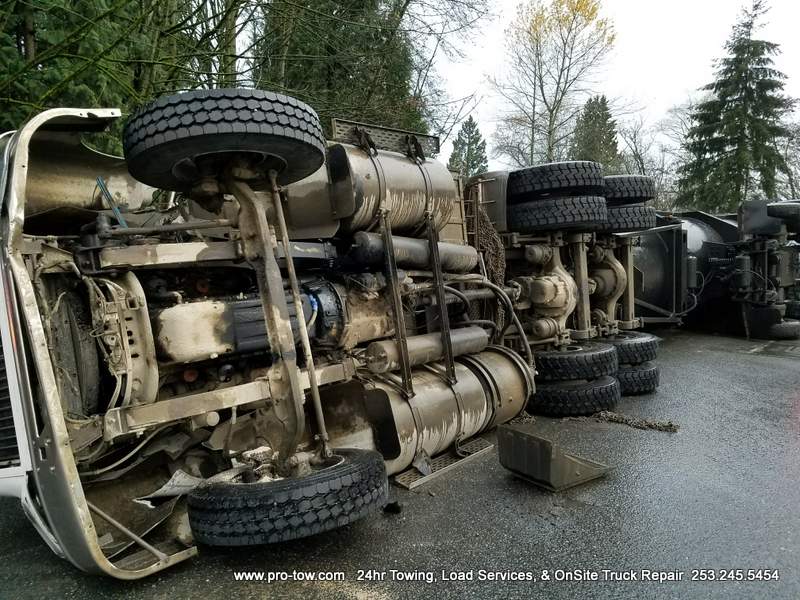 In this incident on December 5th, 2016, an end dump truck weighing nearly 90,000 pounds and carrying wood debris rolled over on Interstate 405 North of Bellevue. Team Pro-Tow came to help with this dump truck recovery.
We arrived at the scene and immediately set up pylons around the accident to keep traffic and our team safe. We then assessed the situation and brought in our two heavy-duty trucks for the dump truck recovery. We placed straps around the vehicle and the axles and carefully began pulling upright again.
Once the truck's body was up, we carefully straightened the dump truck's end until it was positioned correctly again. Then we could haul it away, providing a quality service for heavy towing in Kirkland.
What is an End Dump Truck?
An end dump truck, such as the one involved in this accident, is a specific type of dumping trailer. It unloads by lifting its dump box, the large carrier it carries, and dumping from the rear of that box. You can identify an end dump with higher sides than its main body, which gives them a great capacity to handle larger loads or rough materials. In this case, the end dump truck was hauling wood debris.
How Much Can a Loaded Dump Truck Weigh?
The weight of a dump truck depends on what it is carrying and the dump truck itself. An aluminum end dump truck can carry anywhere from 23 to 28 tons but can also carry up to 30 tons.
Just as with any vehicle carrying a weight, end dump trucks can be overloaded and cause wear and tear to its components. That can lead to accidents, breakdowns and other risks. If that happens, call Pro-Tow for dump truck recovery.
Let Pro-Tow Do the Heavy Lifting
When you need help with heavy loads, heavy towing in Kirkland or any area or accident recovery support, call Pro-Tow. We have the equipment, skills, trained operators, and knowledge to get you and your heavy equipment out of sticky situations.
For emergency heavy truck recovery and other towing needs, call us!
We have locations in Maple Valley, Auburn, Spokane, and North Bend, WA. If you need emergency towing, crane lift services, or accident recovery, give us a call.
Be sure to check out our other incident reports on our Recovery Blog!