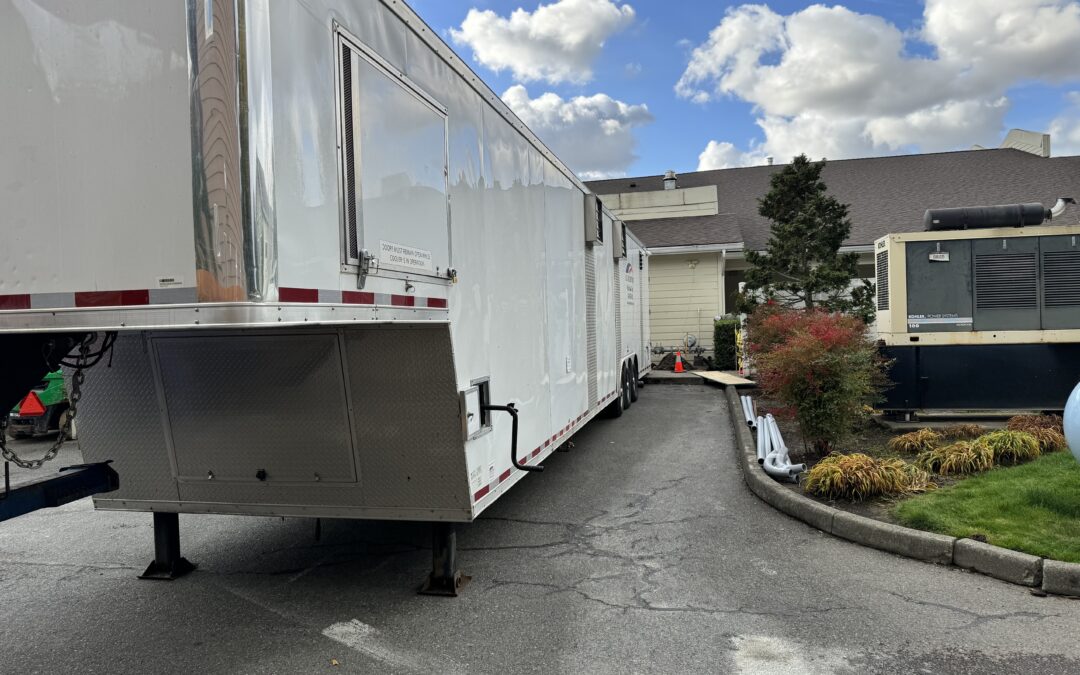 On November 7th, 2023 the parking of a trailer into a tricky spot requires planning and careful execution. For those who have backed a camping trailer at a sharp angle into a narrow campsite, you understand the skills needed!
Sure, you see many recovery photos and stories about us removing large vehicles from where they are not supposed to be (like out of ditches and off highways). But we are pretty good at putting things where they are supposed to go, too! Pro-Tow operators have experience maneuvering large vehicles and backing large trailers into tight spaces. Moving things for our customers is part of our towing services.
That is what we did for this customer. He needed his 48-foot kitchen trailer backed into a narrow space outside a building. Unfortunately, there was a barrier on the other side of the road, and there wasn't much room for our tow truck to maneuver. Parking a trailer into that tight spot with little turning space required exceptional tow experience.
We thank our customer for providing these photos with his positive Google review!
Tips for Backing in Long Trailers
We recommend a few things if you're attempting to back an extended trailer into a narrow or small space. Here are some pro tips:
Check the Area
Before parking a trailer in the spot, check it out and inspect it visually. You want to understand the size of the space and any obstacles that might get in the way. You should also know the exact dimensions of the trailer, including its length, width, and height.
Plan Your Approach
Once you've inspected the space, plan your approach. For example, consider the angle you want to approach the parking spot. You can also choose someone to act as a spotter to help you maneuver the trailer and let you know if you're getting close to hitting something!
Go Slow, Steady, and Use Your Mirrors!
Don't rush, or you could hit something or get stuck. Instead, move in the trailer slowly and steadily and avoid sudden movements. Rely on your mirrors to gauge the distance between the trailer and anything you could potentially hit.
Call in the Pros
If you're uneasy about backing in that trailer or a load yourself, call Team Pro-Tow! Our professional tow truck drivers have years of training and experience with tasks like these. We have heavy-duty tow trucks that can handle massive loads and trailers and lots of practice maneuvering awkward and large equipment into tight spaces.
Need us to move something for you? Ask about our 24-hour towing services. Call Pro-Tow today to learn how we can support you and your vehicles out on the road!