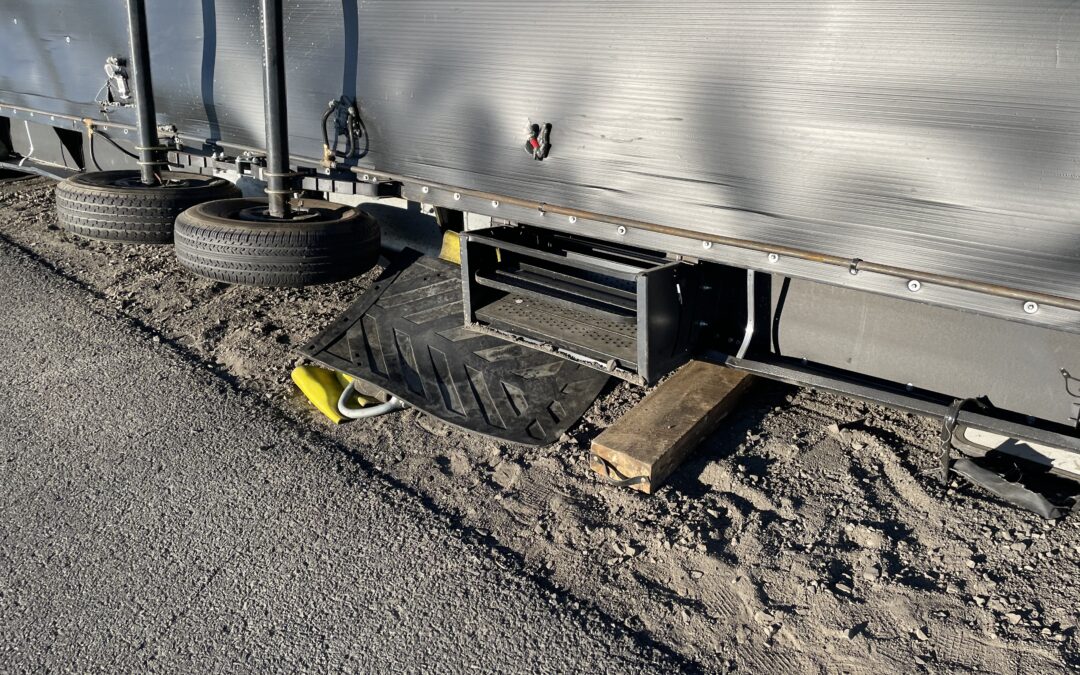 In this incident on July 21, 2021, team Pro-Tow received an emergency dispatch from Washington State Patrol for an overturned camper trailer and full-size Dodge pick-up. The RV accident was near Ritzville, WA.
The collision was blocking the interstate, so we contacted a WSP Trooper at the scene to receive more information. We arrived on-site with a Heavy-Duty Rotating Crane Style Wrecker, Medium Duty Wrecker, and a Specialty Landoll Flatbed Semi-Trailer. After a scene evaluation and discussion with the command post, we got to work on this accident recovery and crane lift service.
Challenging Trailer Recovery
We found that the truck and camper trailer had overturned, slid, and then spun to face oncoming traffic. The damage was significant and required special safety precautions to avoid dismantling the camper. While dismantling was possible, that would take more time, equipment, and personnel for this accident recovery.
So instead, we performed calculations and created an alternate but still safe recovery plan. We also set up the equipment to minimize lane closure, so the traffic could still flow safely. Then, using specialty recovery straps, rigging, and high-pressure airbags, Team Pro-Tow performed an overhead crane lift service and load. Next, we performed non-routine strapping and tie-downs for safe transport to the storage yard and finish the trailer recovery.
Accident Recovery Complete
We performed an overhead crane lift service at the storage yard and placed the casualty into storage. The owner was able to retrieve any personal belongings from the unit as needed. We then returned all supplies and equipment to their original location and condition. Once we finished all the required paperwork, our team cleared the call.
Team Pro-Tow offers crane lift services and 24-hour emergency towing in Spokane, Maple Valley, Auburn, and North Bend.
Be sure to check out our other incident reports on our Recovery Blog!
If you require truck accident recovery, give Pro-tow 24-Hour Towing a call.