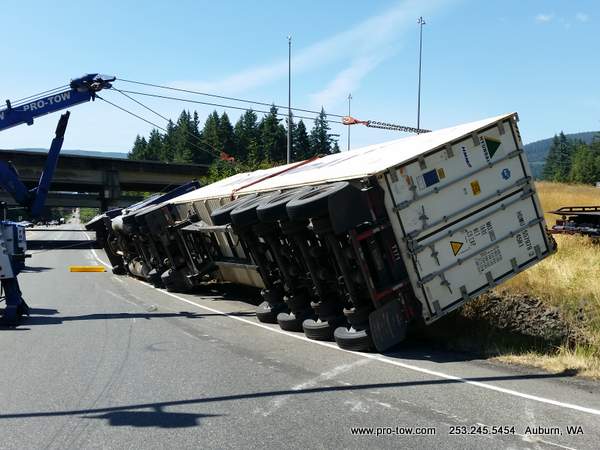 If you follow our blog and social media, you've seen many photos of Team Pro-Tow lifting some pretty heavy trucks and equipment out of sticky situations! We operate heavy-duty crane-style wreckers for accident recoveries, equipment recoveries and crane lift services.
Ever wonder how much one of those bad boys can lift? Well, it depends on several factors. For example, it depends on the heavy-duty wrecker, the manufacturer and how they've configured the crane. However, it's no doubt that wreckers can lift substantial weights.
Lifting Against 180,000 Pounds
Back in 2016, Team Pro-Tow worked with the US Army Corps of Engineers to rescue an escavator out of deep mud in unfavorable terrain. Four heavy-duty wreckers worked with dump trucks, loaders, bulldozers, and excavators to complete this recovery. We estimate that we used about 200 tons of tow truck capacity to get that out. We also estimate that we were pulling against 180,000 pounds.
You can read about that recovery here: Towing Against 180,000lbs of Resistance.
90,000 Pounds of Cargo
Okay, so that was what four heavy-duty wreckers could lift. How about just one? Depending on the equipment, we can raise over 75,000 lbs. Often, we provide crane lift services during accident recoveries when a truck has tipped its trailer over.
In this incident in 2015, we lifted a trailer loaded with 90,000 lbs of beer-battered onion rings! Fortunately, we did it quickly and supplied a backup generator to keep the cargo cool during the recovery. It was a heavy load and a tasty one too!
You can read about that recovery here: Semi-Truck Accident Recovery on a Busy Interchange, Northbend, WA.
What Factors to Consider
It's important to note that various factors impact the actual lifting capacity of a wrecker. For example, the length of the boom, the angle it lifts the load, and the condition of the crane's components. The operator's skill and experience also play a crucial role in safely and effectively using the wrecker to lift heavy loads.
If you need crane lift services from Team Pro-Tow and our fleet of heavy-duty wreckers, call us. We offer 24-hour emergency services and can get your heavy vehicles and equipment out of whatever jam they're in!
If you want crane services in Washington State, call on Pro-Tow. Whether it's for a truck accident recovery or moving something heavy and awkward, we are up for it! We have locations in Auburn, Spokane, North Bend, and Maple Valley, serving all of Washington State.
With our commitment to safety, quality, and customer service, you can trust us to do the job right. Learn more about our crane lift services in Washington.