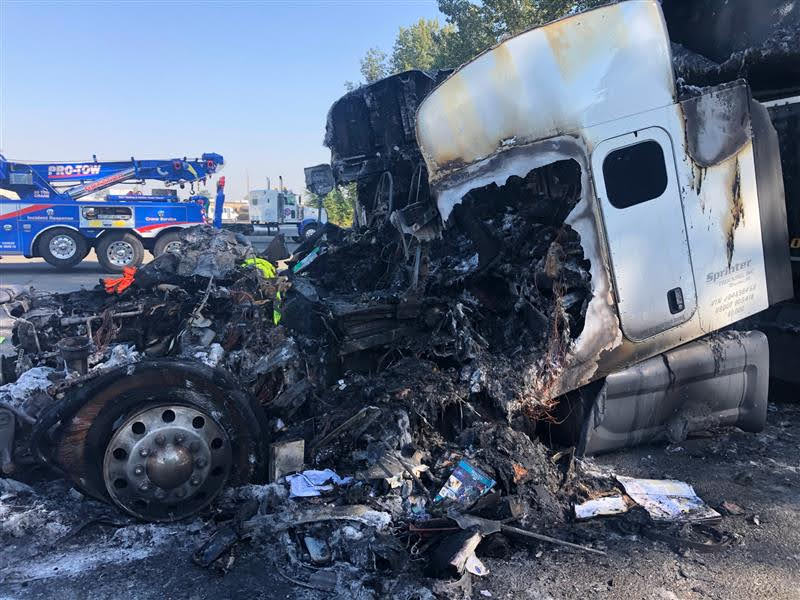 This summer and fall, Washington State was in crisis mode due to wildfires. In this incident on September 10, 2020, during this wildfire crisis, a battery cable shorted out in this truck while the driver was asleep in the sleeper berth. It started a fire, destroying the tractor. Fortunately, the driver was able to evacuate and get to safety in time.
Team Pro-Tow and Team Pro-Enviro were called to the scene to assist with the truck accident recovery and spill recovery. The tractor was destroyed and was lifted onto a flatbed trailer for transport. The trailer, though it suffered notable damage, was in good enough shape to be towed away.
Once the tractor and trailer were out of the way, we got to work on the spill recovery. With the help of industry partners, we got to work clearing debris and cleaning the contaminated area. After a long day on the job, we completed the truck accident recovery. The scene was cleaned up and looking like it never happened.
What Causes Vehicle Fires?
A failure in a vehicle's electrical system is one of the leading causes of vehicle fires. Battery cables carry enough current to ignite anything combustible. If the cables have frayed or are losing insulation, it can cause a short circuit. A charging battery will produce hydrogen gas, and this is combustible. Combine the two, and you'll likely have a fire.
There are things in the vehicle's electrical system to help prevent arcing and short-circuiting. Fuses and circuit breakers add safety to the system, but all components can break down over time. Poor installation or repair jobs and not regularly inspecting the system can render these safeguards useless in extreme cases.
While proper maintenance of your fleet vehicles can help prevent most vehicle fires, accidents still can happen. In this case, it was fortunate the driver woke up in time to escape safely from the vehicle.
If you require truck accident recovery, give Pro-tow 24-Hour Towing a call.