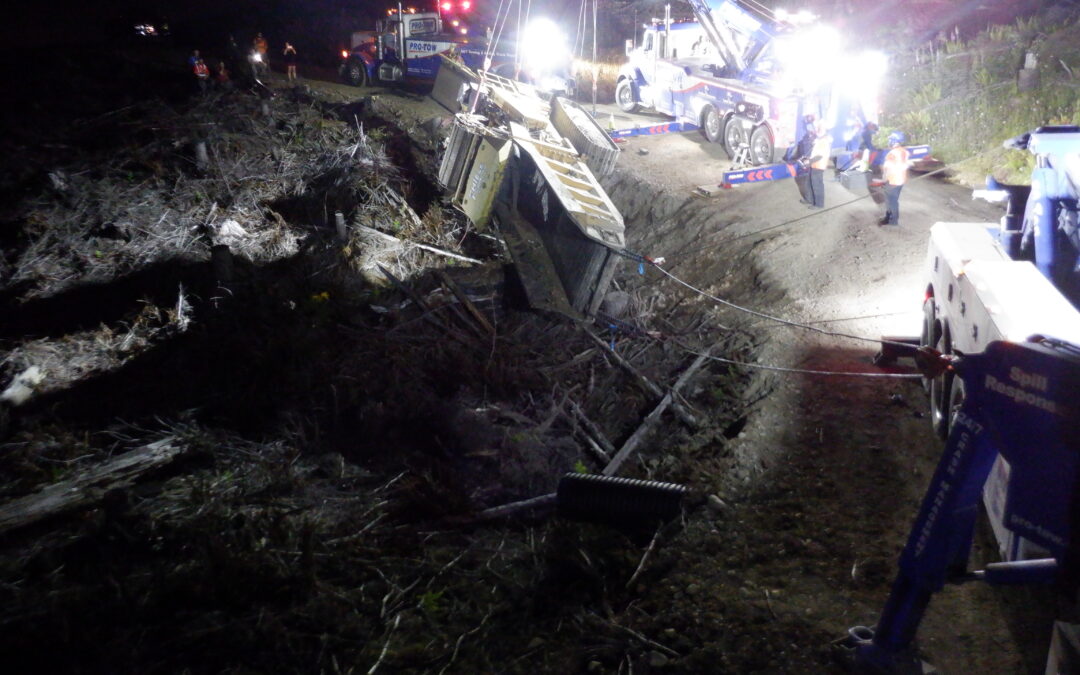 On June 19th, 2020, We received an emergency dispatch about an overturned Kenworth T800, Loadking Lowboy, and a Vermeer stump grinder. The load had overturned while on a logging road when the trailer didn't make the turn. We requested and received photos of the accident to review and form a plan for this complicated crane services job.
We put together the required equipment for the job. Equipment included a heavy-duty rotating crane style wrecker, a heavy-duty recovery wrecker, a heavy incident special equipment, and a support truck. We called in trained and certified recovery operators and headed out to the job.
Multistep Truck Accident Recovery
The scene had limited road access, making things difficult. We needed a heavy truck accident recovery unit and a trained and certified operator to help. We also found leaking motor vehicle oils and fluids, but the customer said they would mediate the cleanup over the following days.
With narrow space available on the road, equipment placement needed to be precisely placed. After first disconnecting the grinder from the trailer, we began the truck accident recovery. We used all three recovery units for the truck and trailer's successful and safe righting (now with even less road space to use). Still, our skilled team even managed to avoid any extra damage. The unit was then hooked up and moved to a nearby safe location. Once there, the customer towed it away.
Grinder Recovery
The final part of this truck accident recovery was the grinder. It was down vertically and 15 feet approximately from the narrow road. On top of that, it had become embedded in the dirt embankment and then pinned by existing stumps. Setting up the rotator for crane services took extra time. It had to be safe, given the road's slope and narrowness. While our team was able to right the grinder, it stayed stuck in the embankment and stumps. As it began to get dark, it also started to rain.
The equipment was moved and repositioned for a new angle, and the recovery attempted again and again. Our team even tried attaching the equipment to an old-growth stump, but that didn't work. Finally, the customer got the grinder running, which let our team perform a difficult but still safe crane service recovery. Throughout these many hours of hard work, safety breaks were enforced and repeatedly taken for our team. That way, injury, fatigue, and possible mistakes were all avoided.
Final Recovery
With the grinder recovery successful, our team began taking down and temporarily storing the multiple equipment sets. As a team, we handled the cleanup, storage, and loading and only left together. Reconditioning and returning the equipment to its original condition took several days. Still, we completed the paperwork and got the cleared call.
Even complex jobs like this truck accident recovery and crane services are not too much for our skilled Pro-Tow team!