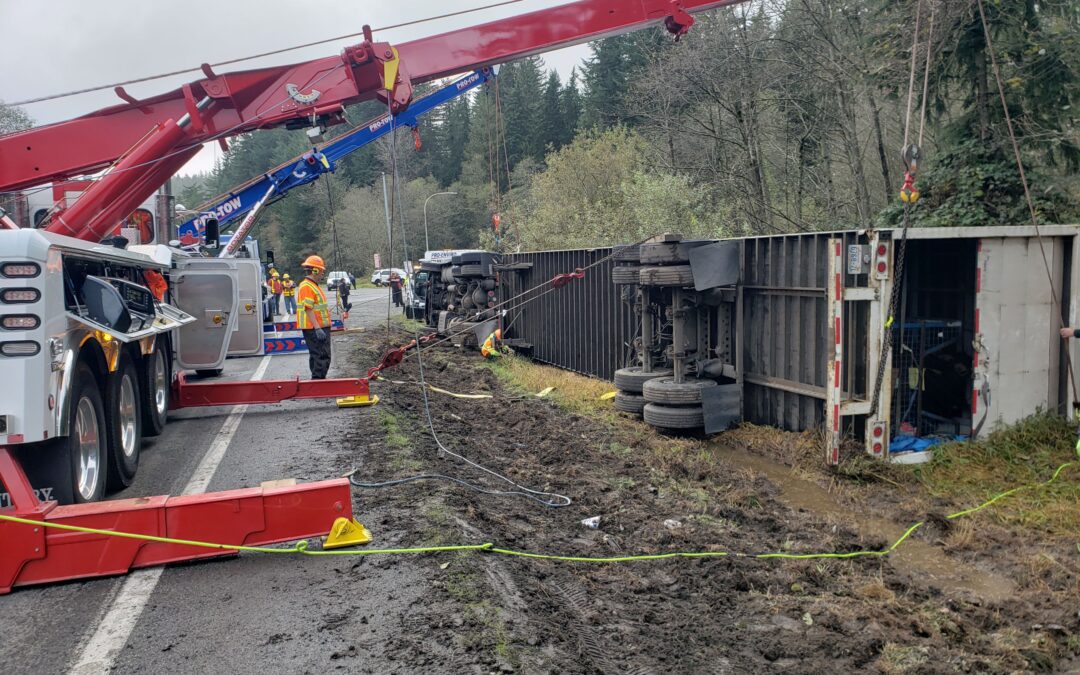 In this incident on October 22, 2019, Team Pro-Tow responded to an emergency dispatch from the Washington State Police about a tractor-trailer that had overturned on the I-90 at Tiger Mountain Summit. The trailer was loaded with laundry and had gone 20 feet off the roadway. 
We dispatched a heavy-duty rotating crane style wrecker and a heavy-duty recovery truck. At least one lane of WB was able to be left open, because of the location of the crash. To safely handle this truck accident recovery, we brought in another heavy-duty crane style wrecker. Leaking fuel oil and motor oils were spreading across the roadway, so we dispatched our spill response equipment and a team to safely handle the fuel spill cleanup.
Pro-Tow reported to the incident command post and after reviewing the situation, we created a recovery plan. This job required difficult additional rigging, equipment and careful operation because of the location of the truck. First, we installed rigging and performed a test lift to make sure all emergency personnel would be safe. Specialized high-pressure air bags were used to lift the trailer, and wide recovery straps were added for support to prevent any rupturing.
We were able to not only safely and successfully upright the truck, but we were able to do so with minimal lane closure and in little time. With the truck accident recovery successful, the truck was then moved to a nearby parking lot.
Moving Onto Cleanup Duty
Next was handling the excessive amounts of casualty debris on the roads. The debris was collected and contained, and the roadway swept and cleaned. The embankment also needed reshaping, which we did to the maximum practical extent. Emergency fuel spill cleanup response protocols were implemented to handle the fuel and motor oil spills and a compact trailer used to remove the contaminated soil.
In the end, the tractor and trailer were safely transported to the storage yard, and all equipment was returned to its original location. A job well done and safely handled by our Pro-Tow team!