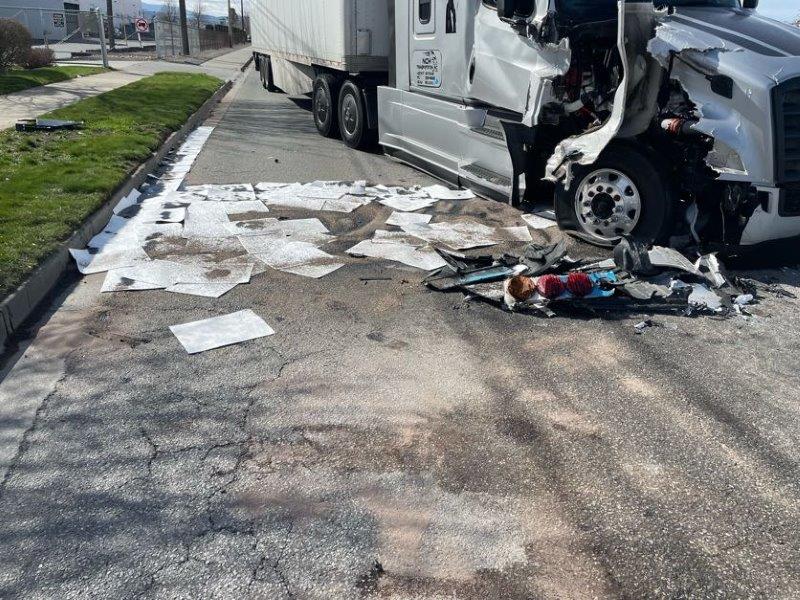 On April 1, 2022, Team Pro-Tow responded to an accident involving a semi-truck and trailer, and a bus. Unfortunately, there was significant damage to the semi-truck, including the fuel tank. This job required semi-truck towing and a diesel fuel spill recovery.
Diesel Fuel Spill Recovery on April Fool's Day
Diesel fuel was all over the roadway, and this was no April Fool's Day joke! We worked closely with our Pro-Enviro spill response team to conduct a scene assessment and develop an accident and spill recovery plan. Containing the fuel spill and ensuring it didn't spread was critical before any semi-truck towing could occur.
First, we ensured the leaky tank was no longer spilling fuel. Then, we used absorbents to the spill to dry up the contaminates so they could be swept away and disposed of. When working on a spill recovery, we thoroughly clean all contaminated areas. A thorough cleanup of spilled substances like fuel reduces the risk of pollution, fires, and traffic hazards.
Learn more about effective diesel fuel spill recovery with Pro-Enviro.
Then It's Time for Semi-Truck Towing
Once the fuel was contained and cleaned, Team Pro-Tow could rig up the casualty and remove it from the scene. First, we detached the truck from the trailer to make the process easier. That way, we could remove each casualty at a time. Then, we towed the truck and trailer to our secure storage yard, filled out the required paperwork and called it a job well done.
Accident Recovery You Can Count On
Pro-Tow offers heavy-truck towing, accident recovery, and emergency towing services throughout Washington State. We have heavy-duty equipment and highly trained and experienced operators that can get your big trucks and equipment out of any mess.
You'll find Pro-Tow 24-Hour Towing Services in Auburn, Spokane, Maple Valley, and North Bend, but we service the entire state and beyond. Learn more about our services at www.pro-tow.com.