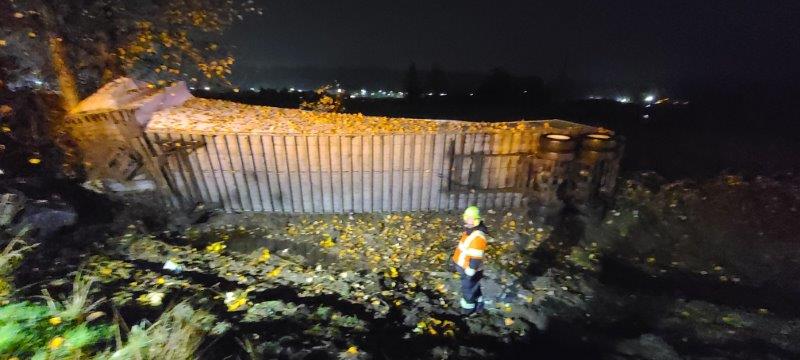 In this incident, on November 11, 2021, Team Pro-Tow received a dispatch from Washington State Police about a fully loaded trailer that had left the roadway. It went 100 feet off the road and hit a tree down an embankment. Fortunately, we were ready to help with the heavy truck recovery.
There were also reports of poor weather, including winter storms and flood warnings. We took note and included that information in our recovery plans. Then, we set out with an HD rotating crane-style wrecker, HD recovery wrecker, spill response vehicle, special equipment support vehicle, HD tractor and travelling axle, three-axle Landoll trailer and certified emergency recovery personnel. A lot of equipment, but all necessary for an accident recovery such as this one.
Once we arrived, we performed a scene evaluation to decide the best and safest approach to the recovery. Once we had a plan in mind, we set to work.
Heavy Truck Recovery First Up
To start, we performed an overhead crane lift of the separated tractor and brought it back onto the roadway. There, we set it on the Landoll trailer and continued. However, we first noticed engine oil, coolant, and motor vehicle diesel fuel was present. Our Team Pro-Enviro took care of the spill recovery aspect for us. They contained the spill to a practical extent so we could continue.
Next, we began recovering the trailer and its cargo. For roadway safety, we relocated our equipment to the side of the road 200 feet from the incident. We then set up a transportation rigging to transport our equipment back and forth.
It was an arduous task and non-routine. In addition, it took extraordinary time due to safety concerns of the deep and fast-travelling waterway. However, we never rush or skip a step, as safety for ourselves and others is always a top priority.
Accident Recovery Continues with Tractor in Pieces
Once we set up, we moved the trailer approximately 100 feet with minimal cargo escapement. Unfortunately, things didn't stay easy. The trailer continually fell apart until it came completely apart.
We did non-routine cutting, lifting, loading, and finally securing. Once we loaded the trailer, we transported it to the secure storage yard. The cargo and part of the trailer remained on the side of the road until additional equipment could safely access it. Meanwhile, Pro-Enviro moved in to handle the debris recovery and spill cleanup work.
Calling in for Extra Help
While much of this work involved non-routine approaches, we never left a job half finished. Instead, we subcontracted extra equipment to finish the job. Using an excavator, two roll-off dumpsters, and a large end dump trailer. Then, we excavated the cargo and remaining debris into the containers. Finally, after plenty of paperwork, manifests, and extensive equipment reconditioning, we completed the accident recovery.
24-Hour Emergency Towing
In addition to mobile crane services, we offer out-of-area transport, 21-hour on-site service and roadside repair. Our goal in every situation is to provide safe, top-quality repairs on all makes and models of vehicles. We work promptly to help with heavy truck towing and ensure everything goes smoothly and safely. Whenever you need roadside repairs, towing or support, you can always call and trust Pro-Tow for support.
Learn more about our services at: https://www.pro-tow.com/services/