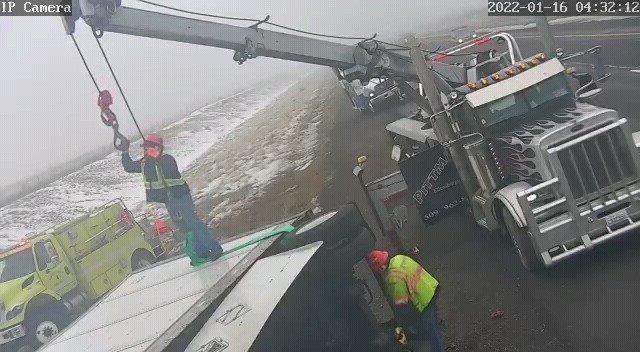 In this incident, on January 15, 2022, a semi-truck hauling a trailer of Sodium Hydroxide got into an accident. The semi-truck tipped over and went off the roadway near Ritzville, WA. Team Pro-Tow responded to help with the semi-truck tip over.
Semi-Truck Recovery Time
For this incident, our team brought along two heavy-duty wreckers. Once we arrived at the scene, we started with a scene assessment to decide the best and safest approach. The main recovery was the tipped-over trailer, which was off the road. We hooked up both heavy-duty wreckers in a sling-like approach around the trailer.
Once that was securely attached, our team could lift the trailer back up and into place. Again, this method was the safest and most practical approach as this minimized any additional damage to the trailer.
Why Two Heavy-Duty Wreckers?
It's not every semi-truck recovery call that our team brings in heavy-duty wreckers, especially two at a time. But when an incident such as this one involves heavy-duty vehicles, we need the right equipment.
Did you know that the term "heavy-duty wreckers" refer to the equipment once used to salvage cargo from wrecked ships? In this case, we aren't salvaging cargo (or working with a boat!), but we use heavy-duty wreckers to salvage the semi-truck tip over and avoid any more damage. Our heavy-duty equipment is defined by its boom and winch combination, which allows us to recover vehicles from not-so-easily accessible areas like off-road or in a ditch.
In incidents like this, where a heavy semi-truck and trailer have gone off-road, we bring these tools. Sodium Hydroxide was also involved in this case, a corrosive and hazardous material. Our team needed to work safely and quickly to prevent anything from getting into the nearby soil. Our team Pro-Enviro handled that side of the recovery while we focused on the semi-truck recovery.
You can always trust Pro-Tow to bring the right equipment for any crane lift or heavy accident recovery.
Learn more about our services at: https://www.pro-tow.com/services/