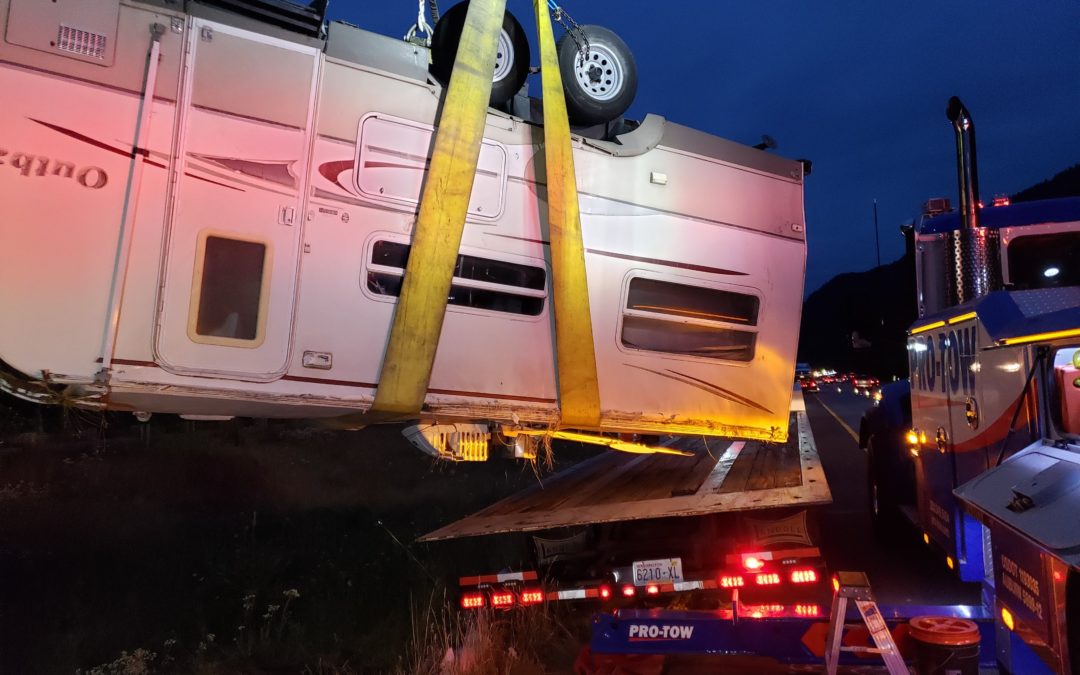 On August 30, 2019 Pro-Tow 24 Hour Towing responded to an emergency dispatch from the Washington State Police (WSP) and arrived on the scene to find a rolled over camper trailer, full-sized pickup truck and a trailer carrying two Sea-Doos. It was a full rollover collision at MM39 on the EB Interstate 90, east of North Bend, WA that required extensive truck accident recovery tactics to remediate.
Equipped To Get The Job Done
After a debrief from the WSP, we dispatched both a medium-duty wrecker and a heavy-duty crane-style wrecker, a light-duty flatbed tow truck and a heavy-duty tow truck complete with a Landoll trailer. Pro-Tow's trained operators had to navigate traffic to assemble on the scene but were full equipped to tackle this truck accident recovery job.
Getting The Job Done
After receiving written authorization from the owners of the vehicles and trailer, we got to work recovering the scene. First, we started with the pickup truck accident recovery. We had to cut it from the trailer hitch and safety chains using a cut-off saw and other power tools. The team used the rotator to safely disconnect the truck from the turned-over trailer. We installed the rigging to upright the truck and return it to the roadway. From there, we hooked it up and got it on the flatbed tow truck.
With the truck done, it was time to move onto the trailer. This camper was worse for wear, badly damaged and dislodged slightly from its frame. Our operators used extensive rigging and safety procedures to prevent the trailer from falling apart further, even exploding. Using an overhead crane lift, we were able to lift and secure the camper on the Landsoll trailer.
Next, the Sea-Doos. We recovered both Sea-Doos, the trailer they were on and various debris by lifting them onto the Landsoll trailer. Everything was strapped down appropriately to eliminate the risk of debris flying off the trailer during transport.
We took the load and vehicles to our secure storage yard temporarily. Our equipment was returned to our location for cleaning and reconditioning, so they could be ready to head out to another call.