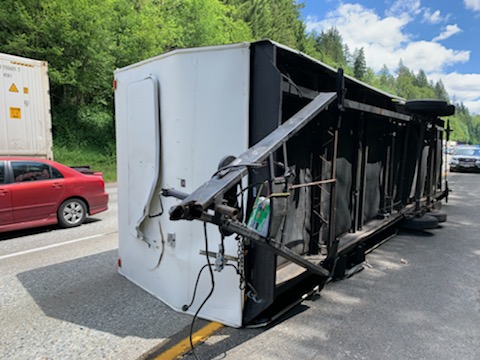 On June 30, 2021, Team-Pro Tow got a call about an accident involving a rolled-over camper trailer on the I-90 near Issaquah. We saw that the RV was blocking the highway when we got there. So our skilled operators got to work creating an RV recovery plan.
Rigging Up the RV
After creating the recovery plan, it was time to start rigging up the very long camper trailer. We carefully wrapped and attached heavy-duty straps around the RV. We wanted to secure the casualty and lift it without causing further damage.
Finally, we cautiously lifted the RV onto a flatbed trailer using a heavy-duty crane-style wrecker. Then it was ready for RV towing in Issaquah. Once the trailer was away from the scene, our team cleaned up any debris left from the accident.
RV Recovery Complete
Team-Pro Tow moved the damaged RV away from the scene, allowing traffic to flow freely again. Unless given specific instructions, we bring casualties to our secure storage yard. From there, the customer can decide what to do with the vehicle or RV in this case.
Team-Pro Tow offers heavy duty towing for a range of heavy trucks and equipment, including RV towing in Issaquah, Spokane, Maple Valley, Auburn, North Bend and other Washington State locations. We have the equipment to get your RV or heavy equipment out of sticky situations and make the process as efficient, effective, and stress-free as possible.
Count on Team-Pro Tow
Our accident, heavy truck, RV recovery, and emergency towing services are available 24 hours a day, every day of the week. Whether you've been in an accident or one of your fleet vehicles is in the ditch, we can get you out of the jam. We also offer emergency towing services for light automotive and trucks. If your car breaks down on the side of the road or your truck battery dies, we are happy to come to the rescue.
Learn more about Pro-Tow's towing services.