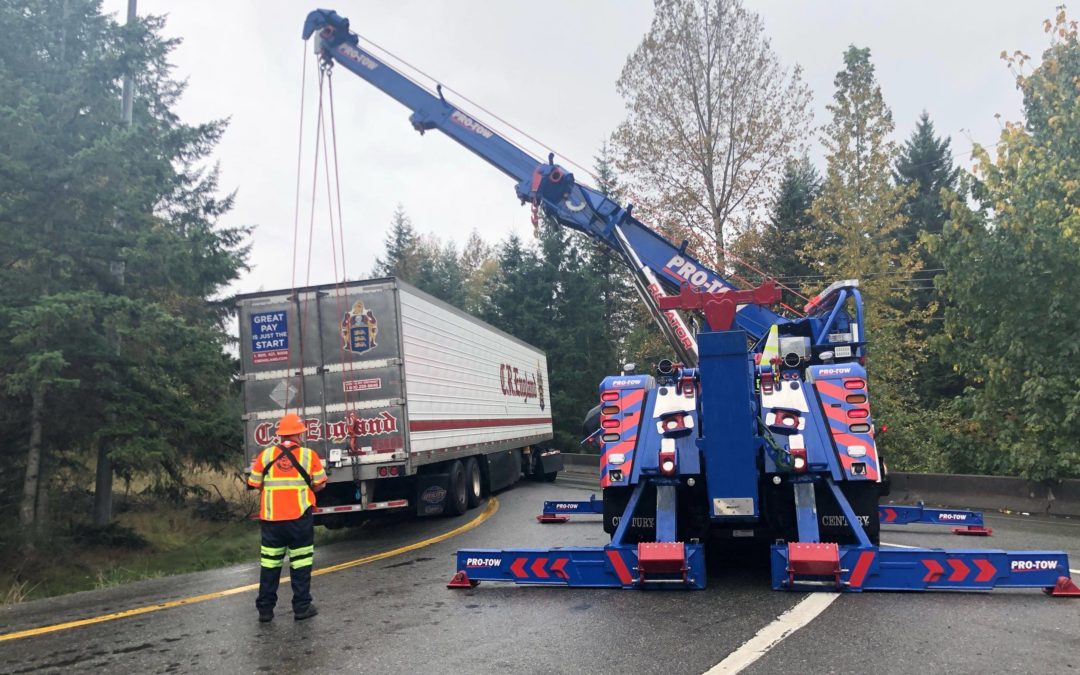 In this incident, on September 22, 2019, Pro-Tow responded to an emergency dispatch about a semi-truck that had gone off the road at state highway 18 and interstate 90 near Snoqualmie, WA. Fortunately, the semi-trailer was not damaged and only the back end had gone off the road. It needed an immediate semi-truck tow service to lift the trailer back on the road. The busy Snoqualmie highway needed to be opened as quickly as possible, so Pro-Tow was quick to respond.
We utilized one of our heavy-duty crane style wreckers and, working with a certified incident commander, we safely lifted the semi-trailer and returned it to the road. With it back on track, the busy intersection was reopened once again, and the semi-trailer continued on its way. This was an ideal case of well-managed truck accident recovery.
What Is An Incident Commander?
In this recovery blog, the term "incident commander" was mentioned regarding the recovery of the semi-truck accident. In an emergency situation such as this, an incident commander is a person in charge of all emergency responses. They assess the situation and quickly set priorities and objectives to help safely and efficiently resolve the incident. They are like the project manager of the truck accident recovery.
The incident commander is responsible for the safety of all those involved, including the incident response team, which in this case was Pro-Tow. In this incident, the focus of the semi-truck accident was to quickly and safely return the semi-trailer to the road so the highway could be reopened.
As always, your safety is our primary concern, which is why we offer both 24/7 service and always bring the proper, certified personnel and equipment with us. No matter what the problem, our certified team is always ready and there to help. So, if you ever find yourself in a jam, you know exactly who to call!