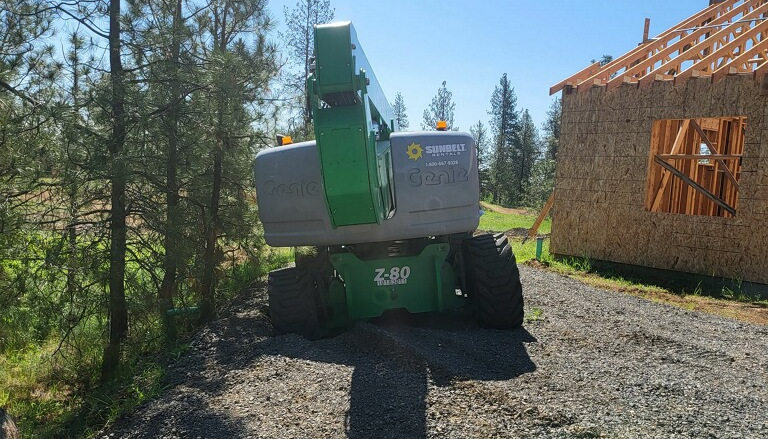 In this incident, on May 5, 2023, a Genie Z-80 boom lift got stuck in the gravel on a residential construction site. According to the manufacturer's specifications, this heavy-duty equipment weighs about 37,500 pounds! Despite being a 4×4, this magic Genie was stuck deep and needed heavy equipment towing.
This thing wasn't going to budge without some help. The construction company renting the Genie lift called Team Pro-Tow to help unstuck this stuck piece of heavy equipment. We got to work and performed a successful heavy equipment recovery.
Heavy Equipment Safety
Keeping your heavy equipment stable and on firm ground will help avoid needing heavy equipment towing. However, in this case, the operator likely suspected the gravel was more compact than it was.
All pieces of heavy equipment, including booms, will have a specific chassis angle limit. This limit indicates the slope or elevated surface grade that the machine can safely operate without tipping or sinking. The chassis slop can be impacted by the angle of the surface and other obstacles like raised walkways, ramps, or loose gravel.
Operators should conduct a scene assessment before moving equipment in. The slope grade and any obstacles must be measured and considered during the assessment. Being aware of your surroundings and the machine's limits can help avoid the need for heavy equipment recovery.
If you rent the equipment, work with the rental staff to review your needs and the site's conditions. They can help you prevent incidents and reduce downtime by selecting a boom lift that can work within limits presented at your job site.
Pro-Tow to the Rescue
Fortunately, Team Pro-Tow has the proper trucks and equipment to get the heaviest and most-stuck equipment out of a jam. In this case, we were able to free the Genie lift quickly so that the construction company could proceed with their work. Quick recovery services can reduce downtime and help mitigate the cost of calling for heavy equipment towing.
Pro-Tow offers round-the-clock emergency towing services. While many of our recoveries involve semi-trucks and other heavy trucks, equipment recovery is also a service we offer. We once helped lift a military tank to change a flat tire! If you need something heavy lifted and moved, we can help. Learn more about Pro-Tow services.
Be sure to check out our other incident reports on our Recovery Blog!
If you require truck accident recovery, give Pro-tow 24-Hour Towing a call.