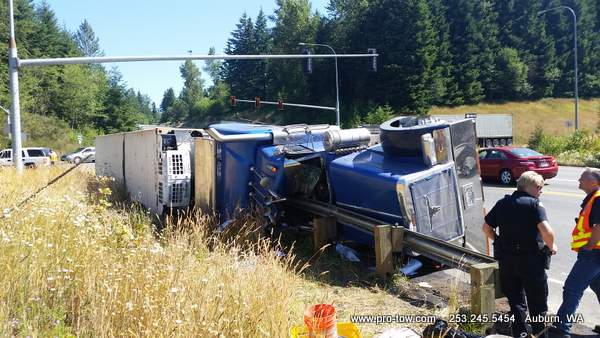 Pro-Tow Had Traffic Flowing In Just 35 Minutes.
When there is an accident involving a semi, you need a heavy duty towing service that can get the job done quickly and safely. In this semi truck accident, a truck carrying 90,000lbs of beer battered onion rings overturned on Highway 18, near North Bend, WA.
It was right at the interchange from Interstate 90 to Westbound 18, so this incident needed quick truck accident recovery services to allow traffic to flow. Thankfully, no one was seriously injured in this accident, but the truck suffered some heavy damage.
Pro-Tow 24-hour towing responded to the semi truck accident with the special equipment necessary to recover the site quickly, efficiently and safely. Our team of highly trained tow drivers met each challenge with their experience an d expertise. Like every call we get, the Pro-Tow team quickly developed a plan that got the site fully operational in as little time possible. We had the semi turned back over, site recovered and traffic flowing with just 35 minutes of blocking traffic.
There was some damage to the generator that ran the refrigeration in the truck's cargo hold. Thankfully our team was able to repair the generator, get power back running to the refrigeration unit and save the onion rings. Thought the trailer and truck in this incident was unable to continue transport, load recovery was possible – the silver lining in an unfortunate accident.
Why Do Semi Trucks Overturn?
Semi trucks can flip over when they change directions too quickly or there is an unbalanced load. It's all about physics. If a semi truck is driving around a curve, there will be a centrifugal force pushing it away from the direction of the curb. Going to fast, having an unbalanced load or a turn that's too tight can strengthen that centrifugal force and make the truck tip.
These trucks are made for hauling, so they're massive. Therefore, they were not designed for maneuverability. While drivers can be as careful as possible, our clients can rest assured knowing that the Pro-Tow team is ready to respond to any accidents that might occur with our 24-hour heavy duty semi truck tow service. Using our fleet of specialized, heavy-duty tow equipment, our experienced team will get your truck right-side-up and the site restored as quickly as possible.