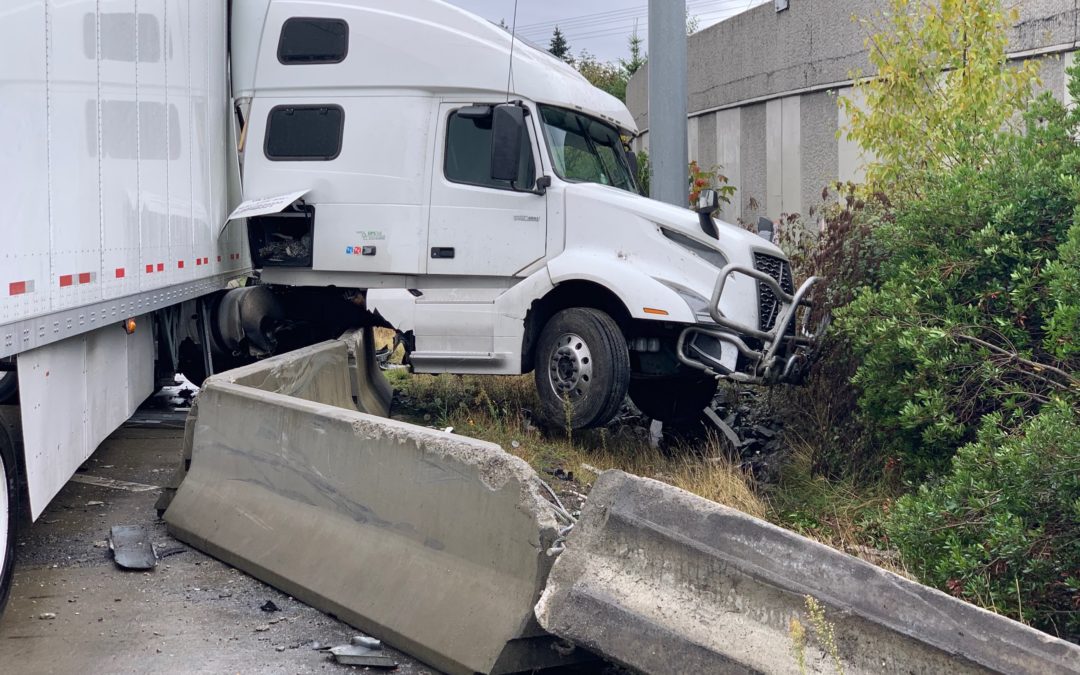 On September 18, 2019 this semi-truck and trailer jackknifed on Federal Way, Washington. It slammed through heavy jersey barriers, which caused a rupture in the fuel tanks. Approximately 200 gallons of diesel fuel and engine oil was spilled on the I-5. This incident required immediate semi-truck spill recovery. Team Pro-Tow and Pro-Enviro were quick to respond.
Keeping Motor Vehicle Fuel Out Of Storm Drains
One of the biggest concerns during a semi-truck spill recovery is containing the spill before it can run into a storm drain. If oil or diesel fuel goes into the drain, it can pollute the natural waterways. If you can get the spill before it does that, you can avoid contamination and, in some cases, fines from the local government.
When there is a spill, the owner of the truck or trucking company is responsible for clean up. Semi-truck spill recovery is less complicated and less expensive if the spill can be kept out of the storm drain. Plus, it causes less harm on the environment. In this accident, the recovery and cleanup service was performed quickly to prevent wreaking havoc on nearby waterways.
Products To Clean And Recover
During a semi-truck spill recovery job, products are used to assist with clean up. You'll notice a light-colored, dust-type material around the spill in the images below. This product is made from recycled, chemically modified cellulose fibers. Using nitrogen, phosphorous and sulfur, the components literally consume hydrocarbons as food. It wicks away the diesel fuel and engine oil and assists with biodegradation of the harmful fluid. The toxins are absorbed, preventing them from getting into the ground or running into the storm drain.