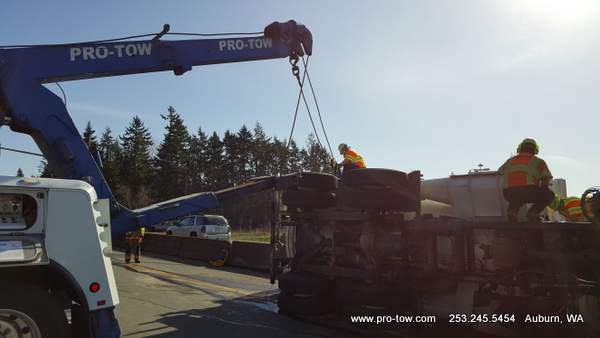 A vacuum truck accident on Federal Way, WA needed heavy duty towing services.
Pro-Tow offers heavy duty towing services, including full semi truck spill recovery and accident recovery. When there is an accident, it's common for the truck to require up-righting as well as a tow. That was the case with this flip-over on Federal Way, Washington.
The Pro-Tow team arrived on site, prepared to get this tanker right-side-up as soon as possible. We used our heavy duty towing equipment to flip it back over, minimizing traffic hold-ups, before towing the truck away.
Every situation is different and so is every truck and load. We understand that unique solutions are required to recover every truck accident site. When you call Pro-Tow, you can have confidence that our team is up to the challenge and will offer heavy duty towing services for the most efficient recovery.
What is a vacuum truck?
A vacuum truck, also known as a vacuum tanker, is a truck that carries a tank and pump. The pump is used to suck liquids from a location, into the tank of the truck. An example would be a septic vacuum truck that empties sewage from septic tanks and systems. These trucks then transport the liquid, whatever it may be, to another location. Then the material is sucked out and disposed of. In the case of a septic tanker, the content would go to a sewage treatment plant.
What causes vacuum truck accidents?
There has been more attention to preventing rollovers in the industry recently, but semi truck accidents still occur. According to this article in Pumper.com, more than three quarters of tanker rollovers are caused by driver error. Driving too fast, turning to quickly or not driving to conditions can cause vacuum tanks to flip, requiring heavy duty towing and recovery services.
Other causes of vacuum truck roll overs include weather, other vehicles, the condition of the highway or a malfunction of the vehicle.
Contact Pro-Tow to learn more about our 24-hour heavy duty towing and load service.